This area is called "Samtong", designating the natural spring water that rises nonstop throughout the four seasons. Samtong is a Gust-Out water area, where water comes out to the surface when rain falls. This happens because while the water flows along the banks of the Hantan-river, it gets blocked by basalt rocks from going deeper underground and then the rocks make it flow back upwards between basalt rock layers or bed rock and basalt rock layers.
The Gush-Out water with the temperature of 13 to 15°C that rises through the basalt bed rock doesn't freeze in winter or even dries out in severe drought, so large and small beams using this water have been installed to irrigate the surrounding farmland. It is famous for its hot horseradish, which the water and rice from Cheorwon Plain is used to grow.

Horseradish
This area is known to had been inhabited by residents since the late 9th century when King Gungye of the Taibong Dynasty established the capital and ruled it. Although it's now a civilian-controlled area, due to Saemtongs great natural conditions for the inhabitation of wild birds such as the abundance of food and drinking water, the area within 2km radius of Saemtong, has been designated as a natural monument No. 245 since 10th July 1973, and managed as a wild bird sanctuary.
As well as geological tourism, this is a famous tourist spot for watching migratory birds such as the Natural Monument No.202, No.203 and No228, which are Red-crowned Crane, White-naped crane, Hooded Crane and also other wild birds including Herons and Gray Herons.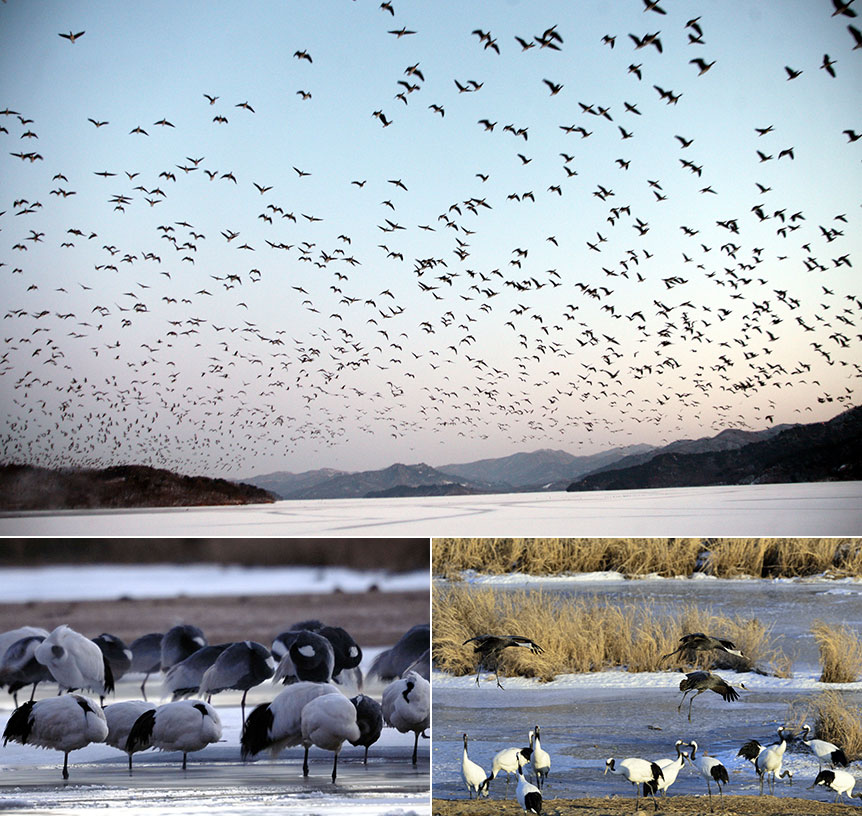 migratory birds and the Hooded Crane of the Bird Sanctuary